Berkshire Deliveroo riders protest in Reading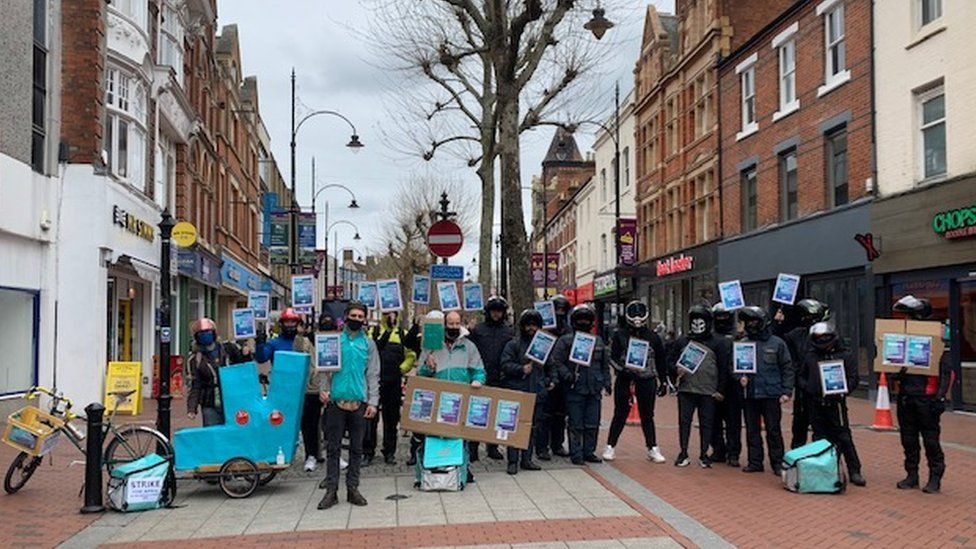 Deliveroo riders have gathered in Reading to protest over pay and conditions.
About 50 riders held a demonstration on Broad Street before embarking on a ride along through the town.
Steven Geary, the chair of IWGB in Berkshire, said it was to "show solidarity on our common aims of better pay, better rights and better safety".
Deliveroo said it was organised by a small "union [that] does not represent the vast majority of riders" and that its own survey data showed 90% of riders were happy with the firm.
Strikers are calling for riders to be paid a living wage after accounting for costs such as fuel, as well as an end to unpaid waiting times.
Speaking at the Reading protest, Mr Geary, who has worked for the company for three years, said other issues included riders, both male and female, often fearing for their safety when attending certain areas of town at night.
He said they also deserved "basic human rights" such as being allowed to use restaurants' toilets.
He added: "There'll be a positive outcome. It might not go all the way we want it to, but it's a stepping stone to publicise the aims of better rights and better fairness."
A Deliveroo spokesperson said: "Riders are at the heart of our business and we always aim to give them the work they want and the support that they need.
"We communicate with thousands of riders each week who tell us that they value flexibility above all else.
"We are proud that rider satisfaction is at an all-time high and thousands of people are applying to be Deliveroo riders each week."
Related Internet Links
The BBC is not responsible for the content of external sites.