Education secretary 'in favour' of Eton admitting girls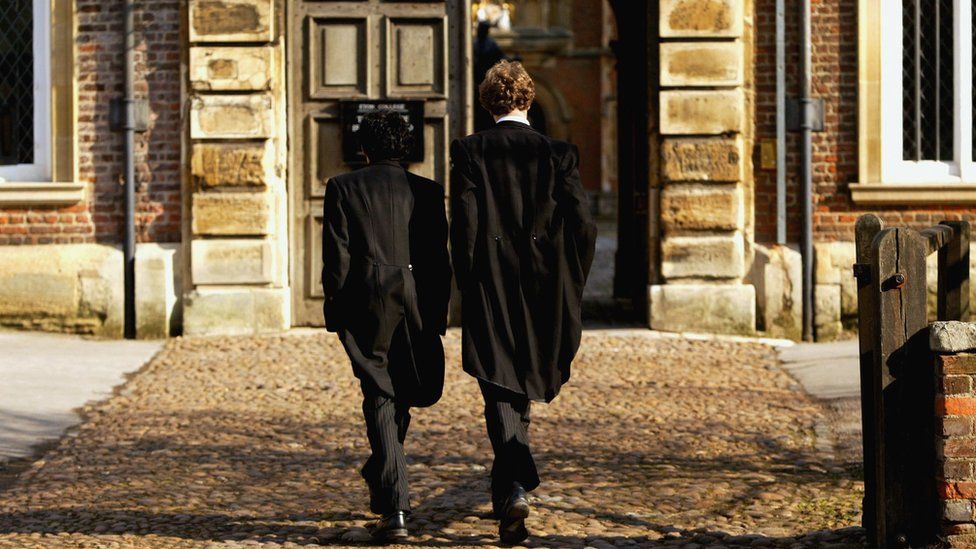 Allowing girls to study at Eton College would be a "step forward", the education secretary has said.
Gavin Williamson told BBC Radio 4's Today programme he would be "very much in favour" of the independent boys' boarding school starting to teach girls.
He was commenting after a row over one of its teachers dismissed in connection to a planned lecture on masculinity.
Eton said it had "no plans to go co-educational".
The Duke of Cambridge and the Duke of Sussex were pupils at the Berkshire school, which charges fees of more than £40,000 a year.
Conservative prime ministers David Cameron and Boris Johnson are also among its alumni.
An official spokesman for Mr Johnson said: "We have said consistently single-sex schools are an important part of our diverse education system and it is right that parents have the opportunity to make decisions about the type of school that their children attend."
He said if Eton was to become mixed-sex "we would obviously support that decision" but it was a matter for the school to set its own admission criteria.
Commons leader Jacob Rees-Mogg, who also went to Eton, said: "Much though I might like my own daughter to go there, I think it works very well as it is, thank you very much."
English master Will Knowland was sacked from the school because of a lecture on masculinity and patriarchy.
School leaders said it breached its "legal and regulatory obligations", though it was still posted on his YouTube channel.
Another teacher, Dr Luke Martin, subsequently resigned from his position as head of the perspectives course at the school.
In his resignation letter, also posted online, Dr Martin wrote: "The point of perspectives is that boys are exposed to various perspectives, some of which they will disagree with."
Will Knowland's video argues that saying "smash the patriarchy" amounts to saying "smash human nature and biological reality" and defends men's aggression as a biological fact.
Eton College says it may be in breach of the Equality Act 2010 which makes it an offence to harass somebody on the grounds of their sex.
The argument for traditional male and female roles is controversial, but behind the legal wrangle is a wider debate over progressive social reforms designed to reduce discrimination. That conversation, with its explosive potential, has been detonated inside the privileged walls of Eton.
One recent graduate accused the headmaster of being the "epitome of progressive propriety". Its website proclaims it to be a "progressive school", a term some regard as a challenge to tradition and conservatism.
Gavin Williamson's comments appear to support a view that exclusively male institutions can be problematic in the context of reducing sexual inequality.
Asked by BBC presenter Justin Webb to comment, Mr Williamson said: "This is an ongoing disciplinary procedure and I don't think when it's a disciplinary procedure it's something that an education secretary should be wading into."
He added he was a "great believer in freedom of speech, a great believer in political impartiality in schools".
When the presenter suggested how some of the issues at the school could be alleviated by having female pupils, Mr Williamson said: "I'd be very much in favour of Eton taking girls. I think it'd be a good step forward."
In a statement, the school said it was advised by its lawyers the content of Mr Knowland's video was problematic.
It said it made a "reasonable request" for him to take it down, "but despite multiple requests and then instructions he persistently refused to do so".
It added: "We are always saddened to see matters reach such an outcome but the school had no choice in the face of clear legal advice and the persistent refusal to remove the content."
An internal disciplinary process determined Mr Knowland's actions represented gross misconduct.
His sacking is the subject of an appeal.
Eton College was founded in 1440 by King Henry VI.
Related Internet Links
The BBC is not responsible for the content of external sites.