Killer of PC Andrew Harper 'should get life sentence'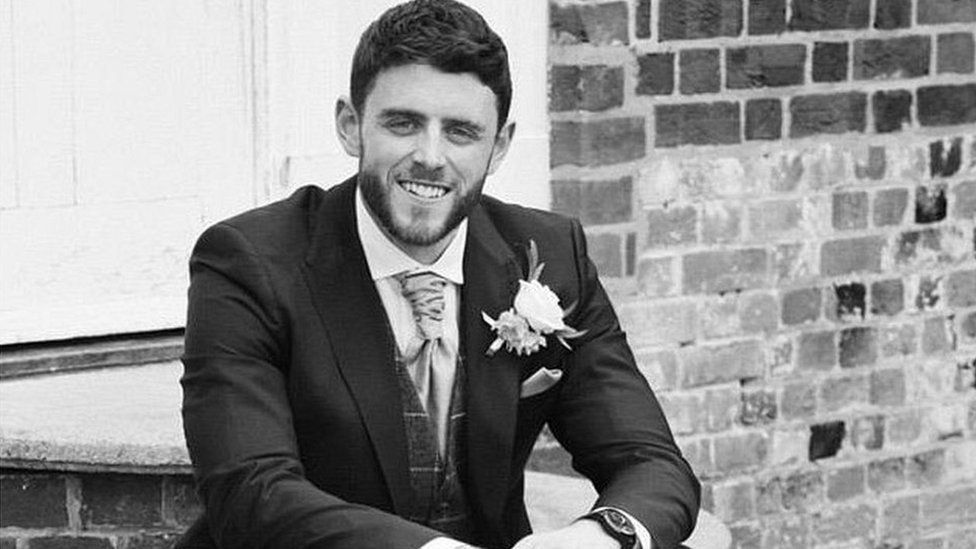 The driver of a car which dragged PC Andrew Harper to his death should be given a life sentence, the attorney general has told the Court of Appeal.
Suella Braverman QC said PC Harper paid the "ultimate price for his bravery" when he was killed on duty in Berkshire in August 2019.
The driver, Henry Long, was jailed for 16 years. Albert Bowers and Jessie Cole were both sentenced to 13 years each.
Mrs Braverman has argued the teenagers' sentences were "unduly lenient".
Long, Bowers and Cole were all cleared of murder following a trial at the Old Bailey, but were convicted of manslaughter.
Addressing judges at the Court of Appeal, Mrs Braverman said the bravery of PC Harper should be "reflected" in the sentence of 19-year-old Long.
Referring to his sentence, Mrs Braverman said: "A life sentence was the appropriate sentence for the first offender, who was and remains dangerous... if not in a case such as this, then when?"
She told Dame Victoria Sharp, Lord Justice Holroyde and Mr Justice William Davis that Long's jail term did not reflect "the seriousness of the offence" and was "contrary to the interests of justice".
Mrs Braverman also argued that the sentencing judge "accorded too great a reduction" to Bowers' and Cole's sentences "for their age and learning difficulties".
In written submissions, Mrs Braverman said the sentences had "caused and continue to cause widespread public concern".
"It appears to me that the sentences passed on the offenders were unduly lenient."
She told the court the judge "correctly observed this was a very serious case of manslaughter" and was "a case of manslaughter very close to murder in its seriousness".
PC Harper, 28, died from catastrophic injuries after he was dragged behind a getaway car for more than a mile.
He got caught in a strap attached to the back of a car driven by Long as he tried to apprehend the teenagers suspected of stealing a quad bike.
The unduly lenient sentence (ULS) scheme allows people to ask law officers to review sentences for certain crimes that they believe are too low.
It requires only one complaint for the attorney general's office to consider whether to refer the matter to the Court of Appeal.
In response to Mrs Braverman's argument, Rossano Scamardella QC, representing Long, said the attorney general's comments about "widespread public concern" should have "no influence on the issue of whether this sentence ought to be adjusted one way or the other".
He said PC Harper's death was the result of "a freakish accident" and said "there was no intentional application of force or violence... there was no intent whatsoever to cause serious bodily harm or death".
Mr Scamardella said there was public concern expressed following the acquittals for murder and that the "narrative became that no jury would possibly" have cleared them unless there was some sort of "tampering".
Timothy Raggatt QC, representing Bowers, said the idea the sentences were unduly lenient was "to be blunt, far-fetched in the extreme".
Lawyers representing Long, Bowers and Cole are also applying for permission to appeal against the length of their sentences, arguing that they were "manifestly excessive".
Mr Scamardella told the court Long's sentence was excessive due to the trial judge, Mr Justice Edis, adopting "too high a starting point" and failing to give Long "full credit" for his guilty plea.
He also said his client had been "wrongly" deemed dangerous.
Long, Bowers and Cole appeared at the hearing by video link from HMP Belmarsh.
PC Harper, 28, from Wallingford, Oxfordshire, had been married for only four weeks to his wife Lissie when he died.
Following the hearing, PC Harper's widow Lissie, told reporters outside the Royal Courts of Justice the proceedings had been "as harrowing as you can all expect", but added she left the court "with at least a sense of balance".
"I feel pride in myself for not settling for something that I see as unacceptable," she said.
Mrs Harper, 29, is campaigning for new legislation to be created known as Harper's Law, which proposes life sentences with mandatory minimum terms for an offenders "guilty of killing an emergency services worker due to a criminal act... no ifs, no buts".
She said she had "every respect" for the attorney general for "reaching the right decision in referring this case for review".
"I know that the majority of our country stands with her and with me wanting change," she added.
The judges said their decisions on the applications would be delivered at a later date.
Related Internet Links
The BBC is not responsible for the content of external sites.