West Berkshire Council to 'reassess' property investments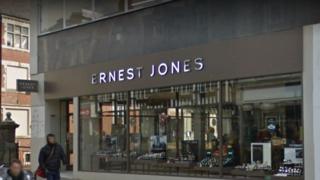 A council that borrowed £62m to buy property across England has pulled back from investing outside its district after guidance changes.
West Berkshire Council bought nine sites as a commercial landlord to raise new income streams to pay for local authority services.
But after the guidance was issued and borrowing rates increased, it has stopped investments nationwide.
It said it was "re-assessing" its commercial property investment plans.
The council had followed the lead of other authorities over property investments, prompted by "increasing financial pressures combined with significantly reduced resources", according to a report.
Since 2017, it has borrowed a total of £62.6m from the Public Works Loan Board (PWLB) - a government body issuing loans to local authorities - in order to buy properties.
The nine investments by the council acting as a landlord include:
A logistics office in Chippenham for £9.2m
A Sainsbury's supermarket in Yorkshire for £7.1m
An Aldi in Yorkshire for £6m
One office bought by the authority in Newbury Business Park for £8m is currently vacant.
Councillor Ross Mackinnon, who leads on finance for the Conservative council, said it was "pausing to reflect" on the investments in property outside the district.
He said the "successful" portfolio of nine properties had generated £1.3m a year in income.
Another £38m in the budget planned for property investment will not be used on buying sites, and instead money will be put into green technology.
The Chartered Institute of Public Finance and Accountancy (CIPFA) has issued new guidance discouraging councils from borrowing to invest in properties outside their district, the council said.
Joanne Pitt of CIPFA said: "Local authorities need to be able to manage risk and in managing risk the importance is they are able to deliver services for the public.
"So what they need to ensure is where they are borrowing it is backed up by good risk management and that they are making prudent decisions."
Within the last year the rate of borrowing from the PWLB has also increased the rate of borrowing to its current rate at 3%.
In a statement West Berkshire Council said it was "moving our focus to schemes that deliver our new priorities as well as provide a financial return".