Sandhurst 'waterboarding' pair cleared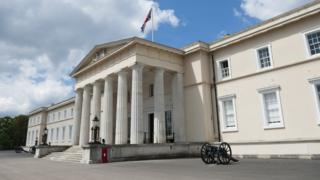 Two Army officer cadets accused of "waterboarding" a colleague at the Royal Military Academy at Sandhurst have been cleared of battery.
Jonathan Cox, 25, and Edward Wright, 24, were accused of pouring water over Edward Flower's face on 7 August.
But as a result of discussions with Mr Flower, the case had now been dropped, prosecutor Col Richard Allen told Bulford Military Court, Wiltshire.
Both defendants had denied assaulting their colleague.
Judge Advocate Alan Large told the court on Tuesday that as a result of the prosecution's decision, "I enter not guilty verdicts in respect of both counts."
He had earlier discharged the three-strong board for legal reasons.
The court had previously heard how the two officer cadets had confronted Mr Flower near his room at about 18:00 BST.
It heard how they grabbed Mr Flower by the ankles and twice lifted him off the floor before pouring an estimated 500ml (0.87 pints) of water over his face.