Maidenhead derelict Roma club fire forces road closures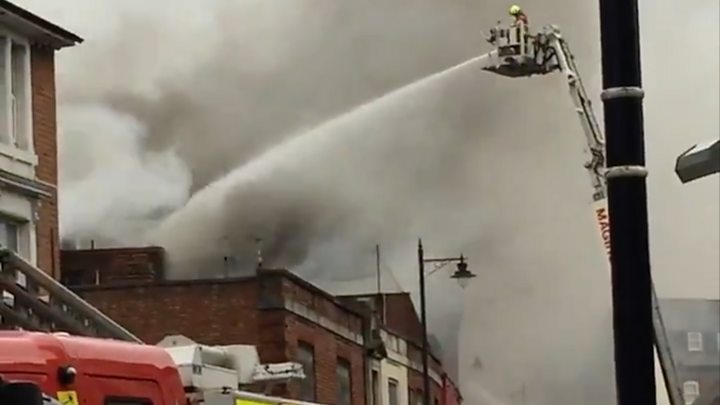 A large blaze at a derelict nightclub has forced the closure of many roads in Maidenhead.
It is understood the roads will be closed on Wednesday while crews tackle the fire at the former Roma nightclub.
Up to 50 firefighters were called to the scene when the blaze first broke out in Queen Street at about 02:00 GMT.
The Royal Berkshire Fire and Rescue service, however, said the operations have since been scaled back and that teams were "damping down".
No casualties have been reported and the cause of the fire is not yet known.
Royal Borough of Windsor and Maidenhead Council said Broadway, Queen Street, King Street, High Street and Park Street were all closed or affected.
The blaze has also affected buildings neighbouring the club, which is in an area earmarked for demolition and regeneration.
Council leader Simon Dudley told the BBC he had briefed Prime Minister Theresa May, who is the MP for Maidenhead, about the fire.
There was a "significant amount of smoke over the town", which was being "fanned" by strong winds, but the blaze looked "slightly more under control", he added.
"Unless you need to come into the town, just stay away. It's really smoke which is the biggest issue, we don't want people inhaling that," Mr Dudley said.
Twelve fire engines and two specialist high-reach vehicles have been sent to the scene, with the fire service expected to remain there for most of the day.
You may also be interested in:
Maidenhead fire station manager Lincoln Ball said crews were pulled back from the building due to concerns the heat from the blaze could cause the structure to collapse.
He added: "It was a large and challenging fire. The fire is under control, however it takes time."
Mr Ball said drones were being used to monitor the blaze.
Emergency services have advised people to stay out of the town while it is ongoing.
Nicholsons Shopping Centre and Broadway car park are also closed.