'Action taken' over Rolf Harris primary school incident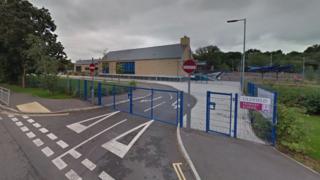 "Appropriate action" has been taken after convicted paedophile Rolf Harris entered the grounds of a school, the Ministry of Justice (MoJ) has said.
The former TV star, 88, was in conversation with a local sculptor when a head teacher asked him to leave the Berkshire primary school's site.
Police said "no offence" had been committed by Harris, but that an officer had given him "advice".
Harris was jailed for five years in 2014 but released on licence in 2017.
He was seen waving to children as they were waiting in Oldfield Primary School's hall for their lunch last Tuesday.
He was talking to sculptor Nick Garnett, who was working in the school's "Kiss and Drop" area.
The MoJ said it would not comment on whether any terms of Harris' licence had been breached, due to him entering school property.
A spokeswoman said it would not say what action had been taken.
The MoJ said sex offenders are subject to "strict licence conditions upon release and enforcement action if they breach them".
Australian-born Harris was jailed in 2014 for 12 indecent assaults, relating to four girls between 1968 and 1986.
He was cleared of four unconnected historical sex offences in May 2017, which he had denied.
In November 2017 one of the 12 indecent assault convictions was overturned by the Court of Appeal.