BBC Berkshire last to leave Caversham Park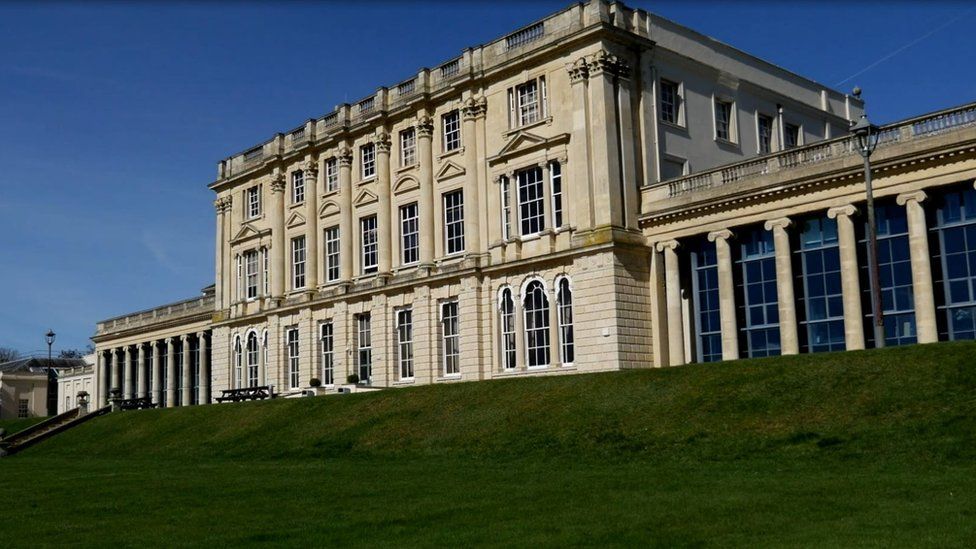 The BBC has left one of its historic homes 75 years since staff first occupied the site during World War Two.
Caversham Park once housed BBC Monitoring, a service which listens to and summarises news from 150 countries.
BBC Berkshire, which was also based at the site, left after 20 years on Tuesday.
Andrew Peach hosted the radio station's final breakfast show at Caversham before Sarah Walker broadcast the first show from the Thames Valley Park studios in Reading at 10:00 GMT.
Local digital and television staff based at Caversham have also moved to the new location.
But despite the grade-II listed building's long affiliation with BBC, its past stretches back further.
The recorded history of the site goes back to the Domesday Book, when it was inhabited by relations of William the Conqueror.
The current building was built in 1850, following a fire, by the architect Horace Jones - who also designed Tower Bridge in London.
By the 20th Century it was being used as a school and in 1941, the premises was transferred to the BBC.
Occupying the site in 1943, BBC Monitoring transcribed and summarised 240 broadcasts into an 80,000-word document called the daily digest, which was swiftly delivered to London by war despatch drivers.
Following the war, the department played a key role in defusing the Cuban Missile Crisis in 1962 and listened in on historic moments such as the fall of the Berlin wall in 1989 and The Arab Spring in 2010.
Now the last of the BBC staff have moved out of Caversham Park, with BBC Monitoring having moved its base to London in May the future of the site looks uncertain.
Despite being on the market for over a year, the BBC says no deal has been struck with a buyer.
Reading Borough Council has stated it is opposed to houses being built on the site.
Tony Page, deputy leader of the council, said: "The site and the park and the area of land around it is of historic significance and certainly our presumption is against any new development."
He previously said the authority's policy did not allow any additional development, other than the conversion of the house.