New mum 'sent home by GP' two days before death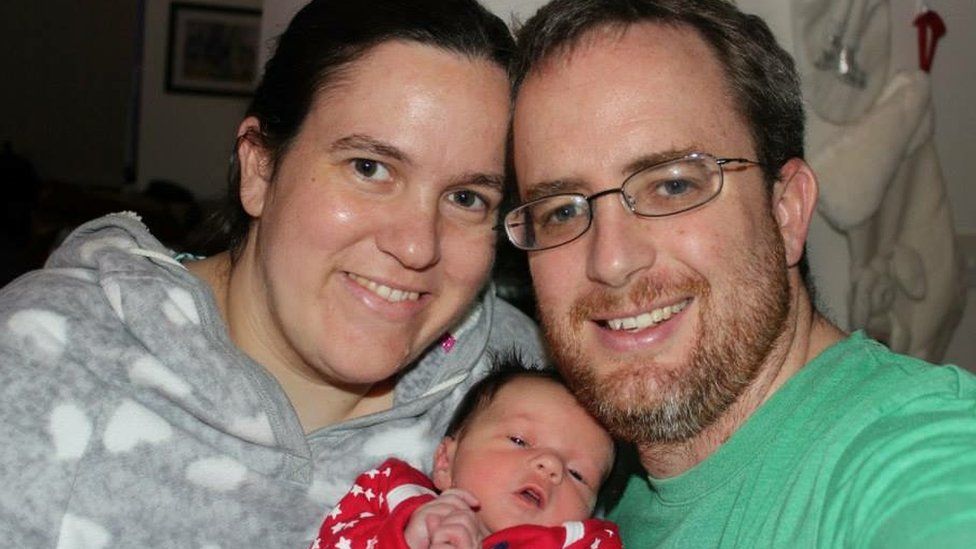 A new mum was told by a doctor she had suffered "an anxiety or panic attack" and sent home 48 hours before she died, her husband told an inquest.
Michelle Roach died in the Royal Berkshire Hospital in January 2014 from a blocked blood vessel in her lung, six weeks after giving birth to a daughter.
A coroner heard Mrs Roach, 32, had seen Dr Nuala Morton two days before her death after struggling to breathe.
George Roach told the inquest the GP told his wife to "come back tomorrow".
Mr Roach said his wife, who had been diagnosed with high blood pressure and asthma, gave birth to their first child, McKenzie-Lee on 17 December 2013.
He said she had collapsed on two occasions - 11 January 2014 and on the morning before an doctor's appointment on 29 January - after feeling like "she could not breathe".
Mr Roach, from Bracknell, Berkshire, said at the appointment on the 29th, Dr Morton "advised Michelle was having a panic or anxiety attack and that she should basically go and do something for the day and come back tomorrow".
He added: "We both questioned it. It was not something Michelle had or had experienced. It was odd."
Dr Morton wrote in her notes that the mother-of-one was "anxious plus plus and panicky".
'Inadequate but accurate'
Coroner Heidi Connor questioned whether the GP could say for sure that Mrs Roach was "not short of breath" on 29 January and Dr Morton replied: "Yes I believe I can."
The court heard there were no records of Dr Morton taking Mrs Roach's blood pressure at the appointment, but the GP said she could remember taking it.
The GP admitted her notes recorded on Mrs Roach were "inadequate but accurate".
The court heard Dr Morton attended the family home on 30 January and she said Mrs Roach was "breathless on exertion". Mrs Roach was then taken to hospital by ambulance.
The court heard she collapsed and died after doctors were unable to resuscitate her on 31 January.
Ms Connor said the inquest into Mrs Roach's death was being held four years later because "we were not made aware until 2017 of the concerns and hospital investigation".
The inquest in Reading continues.