Off-duty Thames Valley Police officers save man from drowning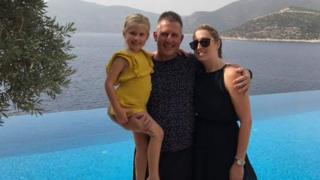 Two off-duty police officers on a family holiday saved a man from drowning in the sea.
PC Jon Wildridge swam out and pulled the man to shore with the help of his wife PC Stacey Wildridge while they were away in Turkey.
Mr Wildridge performed CPR for 20 minutes on the man until an ambulance arrived. Thames Valley Police called its two officers "heroes on holiday".
The man is in a stable condition in hospital.
The force shared a picture of the family on Twitter, and Mr Wildridge, who is stationed in Bracknell, has thanked members of the public for their "very kind comments".
Mr Wildridge said: "If it was not for the assistance of my wife, I would not have been able to get the man out.
"Stacey also swam into the water with me and supported me in addition to what she did with the man's wife. Team effort."
Mrs Wildridge, who is based in Slough, looked after the "male's distressed wife", the force said.