Seven arrests after Trident protest in Berkshire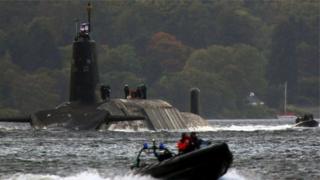 Seven people were arrested in a protest outside a nuclear weapons factory.
Protesters from anti-Trident group "Trident Ploughshares" blocked approach roads to prevent staff entering the Atomic Weapons Establishment (AWE) site in Berkshire on Wednesday.
The BBC understands workers from the Burghfield plant were moved to an AWE site in Aldermaston due to the protest.
The Ministry of Defence (Mod) said seven protesters had been arrested and two were "being processed by police".
AWE builds the UK's Trident submarine warheads at its sites in Aldermaston and Burghfield.
An MoD spokeswoman said: "We recognise the democratic right of individuals to participate in peaceful protests, but any breaches of law are always dealt with appropriately."
Ministry of Defence Police were in place to "safeguard normal operations" at the AWE site, a statement added.
In a press release sent out by protest group Trident Ploughshares, one campaigner said she was "ashamed" that the UK "spends obscene amounts of money on upgrading it's weapons of mass destruction".
Julia Mercer added: "I hope our actions will raise awareness of what is going on here."
Thames Valley Police said it was "made aware" of the demonstration at about 07:00 BST and officers "worked with protest organisers to facilitate peaceful and lawful demonstrations".