Father Daniel McLaren jailed for baby shake murder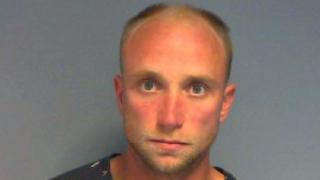 A father who murdered his baby son by shaking the four-month-old to death has been jailed.
Jack McLaren died in hospital in June 2017 as a result of a "forcible shake" which caused bleeding on his brain.
Daniel McLaren, 30, of Newbury, Berkshire, was convicted of murder and causing grievous bodily harm with intent to another child.
He was sentenced at Reading Crown Court to life in prison with a minimum term of 22 years.
Mr Justice Nicol said "any parent will have experienced the difficulty of coping with babies who are upset", but that McLaren's actions were "inexcusable".
"You shook Jack which would have flung his head back and forward and side to side," he added.
"That in turn caused the catastrophic injury to his brain from which he died."
The judge said a "serious aggravating factor" in the case was that "Jack suffered not just one but two episodes of brain injury".
'No defence offered'
The court heard McLaren called 999 and told an operator his son had "choked on his bottle and had gone all funny" while in his care on 2 June last year.
Prosecutor Sally Howes QC said Jack was "pale, floppy and had white fluid coming from his nostrils and mouth" when paramedics arrived to at McLaren's home.
No defence was offered on behalf of McLaren, who had admitted manslaughter and a charge of causing grievous bodily harm, and he did not give evidence.
Jurors, who heard McLaren had also shaken Jack three weeks before his death, took 65 minutes to return their verdicts following the two-week trial.
The court heard McLaren had 21 previous convictions for 33 offences, including 10 convictions of battery, one of causing grievous bodily harm and one of wounding.
Defence barrister John Price QC told the court McLaren's actions were of a "loss of temper and not a wilful desire to harm and to hurt".
Det Supt Nick John said McLaren's actions "deprived Jack's mother and all of those who knew and loved him of having in their lives and being able to watch him grow up".