JK Rowling inspired by 18th Century boy's chicken in trousers tale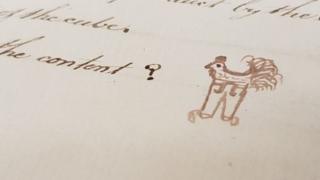 Doodling while bored in maths is not unusual - but could you match the 18th Century school boy whose drawings of a chicken in trousers and a family dog led to full-blown stories?
The illustrations have now caught the eye of JK Rowling, who tweeted about including the tales in her next novel.
The doodles, found in an archive of books, were tweeted by the Museum of English Rural Life (Merl), Berkshire.
The book was owned by "someone called Richard Beale, from Biddenden, Kent".
After JK Rowling retweeted its thread, the museum asked the author to make her "next series of novels track the adventures of a chicken who wears trousers".
The Harry Potter author replied on social media: "Way ahead of you. He's best friends with a duck in a balaclava."
In its tweets Merl explained: "Every generation of the Beale family had a Richard, and we think the one who owned this book was 13 years old in 1784.
"He used the book for writing out mathematical equations and problems."
But the story of the animals in the margins of the maths book is what has caught the imagination of social media users.
Pictures of the book show how the boy used drawings to bring his pictures to life, including working out distance and angles using doodles of a street scene, ships and a hill.
Drawings in the book, which had been passed down through generations of one family, show a recurring image of a spotty dog which the museum presume was owned by the family.
The historical journal was donated to the museum in a crate of 18th Century farm diaries from Kent.
In the final tweet of the series Merl said "there's one thing we didn't expect to see.
"Richard put an 18th Century chicken in some trousers."
The museum has urged the public to come to see this and other books on display at the museum in Reading.