Jack McLaren trial: Baby died from head trauma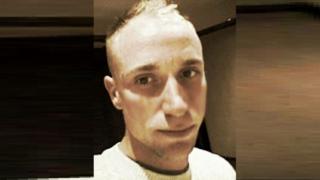 A four-and-half month old baby died as a result of a "forcible shake", a jury has heard.
Jack McLaren had bleeding on his brain after he suffered a "head injury of the shaking-impact type", prosecution barrister Sally Howes QC said.
He died in hospital on 4 June 2017 when his life support machine was switched off, Reading Crown Court was told
His father, Daniel McLaren, 30, of Newbury, denies murdering his son, but has admitted manslaughter.
Ms Howes said forensic experts believed the bleeding on Jack's brain was caused by "trauma" to the head.
The court heard Mr McLaren, a bricklayer, called 999 and told an operator his son had "choked on his bottle and had gone all funny", while in his care just after 19:30 on 2 June 2017.
Ms Howes said Jack was "pale, floppy and had white fluid coming from his nostrils and mouth" when paramedics arrived to at Mr McLaren's home.
'Tongue turned blue'
Mr McLaren's fiancée Crystin Bartholomew, who was out for a meal, had been called by him and told Jack had suffered a "fit or a seizure", Ms Howes added.
Jack was taken to Royal Berkshire Hospital before being transferred to a specialist ward in Southampton General Hospital where he died.
The jury heard Miss Bartholomew said "he was fine 30 minutes before I left the house", when she arrived at hospital.
Prosecutors also accuse Mr McLaren of harming his son on an occasion in May 2017 "when Jack stopped breathing and his tongue turned blue".
Ms Howes said Mr McLaren's phone showed he had searched for "serious symptoms in babies never to ignore" and "why is my baby's tongue blue".
She added: "This incident which is a little over three weeks to 2 June was an earlier shaking incident that Jack managed to recover from."
Mr McLaren also denies a charge of GBH with intent on the another child on 2 June 2017.