AWE Aldermaston: Atomic weapons site in staff safety breach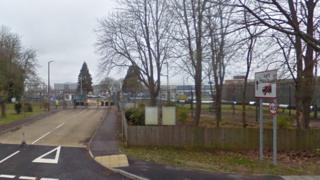 The organisation which manufactures and maintains the UK's nuclear weapons has admitted failing to ensure the safety of its staff, a court has heard.
An electrician suffered burns to his arms, in June 2017, while carrying out routine testing at the Atomic Weapons Establishment (AWE) in Berkshire.
Prosecuting, Craig Morris told Reading Magistrates' court AWE had failed to "appreciate the risk of live working."
Mr Morris said the injuries were "not as serious as they could have been."
The site is responsible for making Britain's Trident nuclear warheads and stores nuclear waste from Royal Navy submarines.
Assessment by The Office of the Nuclear Regulator (ONR) deemed the incident to be a conventional health and safety matter, with "no radiological risk to workers or the public".
Lawyer for AWE PLC, James Maxwell-Scott, told the court that despite the nature of establishment where this happened, it "could have happened in any other institution".
The company was previously fined £200,000 for a safety breach during a fire at its Berkshire site in 2010.
AWE will be sentenced on 9 November.