Windsor Castle anti-terror plans expanded in wake of attacks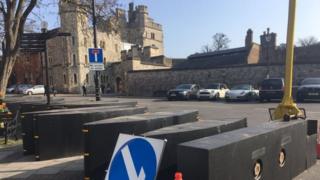 Plans for permanent anti-terror barriers at Windsor Castle have been expanded following further vehicle-based attacks in the UK and Europe, a borough council report has revealed.
Temporary barriers were installed in March 2017 after a car was used to run down pedestrians in Westminster.
Additional sites have since been identified as potential targets in a police review of the town's risk areas.
The expansion of the project will push costs to £3.2m, the report states.
An original estimate anticipated costs of £1.9m, to be split between the Royal Borough of Windsor and Maidenhead and Thames Valley Police (TVP).
After the Westminster attack, the Metropolitan Police and TVP jointly identified the Changing of the Guard at Windsor Castle as a potential target.
However, a police review, published in October 2017, found further sites potentially require Hostile Vehicle Mitigation (HVM) measures on a permanent basis.
They include the guard route, castle visitor queues, the ceremonial event route and town centre shops.
The report said HVM barrier walling has already been added to Castle Hill and St Albans Street "to reflect the revised risks in these areas".
It continued: "Both sites had been reviewed by the Police following a number of further vehicle-born attacks in crowded places in the UK and Europe."
The council has so far agreed to commit £942,000 towards the project, while TVP has committed £250,000.