West Berkshire Council: Garden waste petition signed by 3,000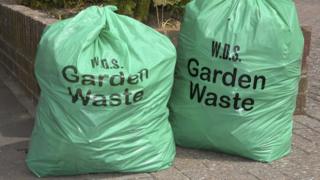 More than 3,000 people have signed a petition against a council's plan to charge for garden waste recycling collections.
West Berkshire Council wants to charge residents an upfront fee of £50 to have the waste picked up every fortnight.
The authority claims funding reductions mean it must charge for some services.
George Davis, who started the petition, said the charge was "unreasonable" because people will not be charged for food waste, collected in the same bin.
He added refuse collectors would have to open every bin to check their contents.
"How do you draw the distinction between some things that are food waste and others that are garden waste?," he asked.
The council announced the plans to introduce an annual subscription for the collection of garden waste, in February.
'Cash cows'
The authority claimed it will raise £900,000 as part of its effort to make £5.2m of savings next year.
But Liberal Democrat councillor Alan Macro, said the charge was "going to put lots of people off" recycling their garden waste.
He added: "Lots of people won't be able to afford it, particularly those on low incomes and the elderly".
More than half the councils across England have introduced charges for garden waste collection, including the neighbouring authority in Reading.
But critics have previously argued the schemes, which raise almost £74m nationally, use local residents as "cash cows".
Libby Peake, of think tank The Green Alliance, told BBC Radio Berkshire that in order to produce the "best environmental outcome", people should deal with their garden waste at home.
She said councils "should bring in a lot more support for home composting which means people can avoid the charge entirely".