Councillor Dominic Boeck: Transphobic retweet broke council code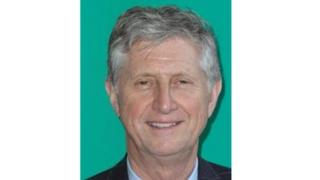 A councillor who shared a tweet which "characterised transgender people as mentally ill" breached a council's code of conduct, an investigation found.
Dominic Boeck resigned as West Berkshire Council's head of health after he retweeted two tweets, the second of which criticised comedian Eddie Izzard.
Conservative Mr Boeck, apologised and said he regretted "any offence" caused.
He will receive a formal letter about his actions from the council.
Labour said the council's sanction was "inadequate".
Mr Boeck was found to have breached the council's code of conduct after sharing a tweet which compared being transgender to mental illness because he did not counter the claim.
The findings, released by the council on Thursday, said the second retweet, which mocked Labour activist and transvestite Izzard, did not breach the code.
Thomas Tunney, on behalf of Newbury's Labour party, accused Mr Boeck of expressing endorsement for "opinions that are deliberately designed to undermine transgender people and paint them as mentally ill... or otherwise less capable than those who are not".
Mr Boeck apologised on Twitter and said he would "resolve to look closer at tweets before I retweet them".
"I regret any offence I may have given in this way. I absolutely do not believe that anyone with gender issues is mentally ill," he explained.
"I do believe without doubt that people of any gender and sexual orientation must be respected and I will make sure my behaviour online and off reflects that."
The council's ethics committee said it accepted Mr Boeck "did not intend to cause offence and that the thread was retweeted inadvertently".