Reading Ikea death: Joaquin Fernandez 'trapped by lift'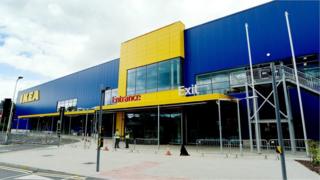 A mechanic was killed when a descending lift trapped him while working at an Ikea store, an inquest heard.
Joaquin Fernandez, 41, died while carrying out electrical work at the firm's Reading branch in October 2016.
CCTV footage shown to a jury at Reading Coroner's Court saw Mr Fernandez working in a shaft when the lift descended above his head.
A post-mortem examination found he died of traumatic asphyxiation, where the chest is crushed by a large object.
The first day of the inquest heard from a colleague working with Mr Fernandez, from Seville, on the lift.
Manuel de Sola told the court he was picking up tools to disable the lift when he heard "a noise", which he said he now believes were the doors closing.
Mr de Sola, at that stage on the same level as the elevator, said that because the lift was hydraulic he did not hear it descend.
He then heard a "shout" from Mr Fernandez, and realised he had been trapped.
Fellow Spaniard Mr de Sola said he "tried desperately to help his friend", who he had known for nine years, and even tried to manipulate an engine control box to move the lift.
The jury was shown camera footage of Mr Fernandez working with his head and shoulders outside of the open lift doors.
He made no sudden movements as the lift moved down above his head.
Police statements from those who attended the scene suggested that meant he did not know it was moving.
Representatives from MP lifts, a lift maintenance firm who subcontracted the work to Mr Fernandez's company, pressed Mr de Sola on whether both he and Mr Fernandez were trained by in how to operate a lift safely.
He said they were.
The inquest continues.