Reading Prison: Oscar Wilde arts centre plans backed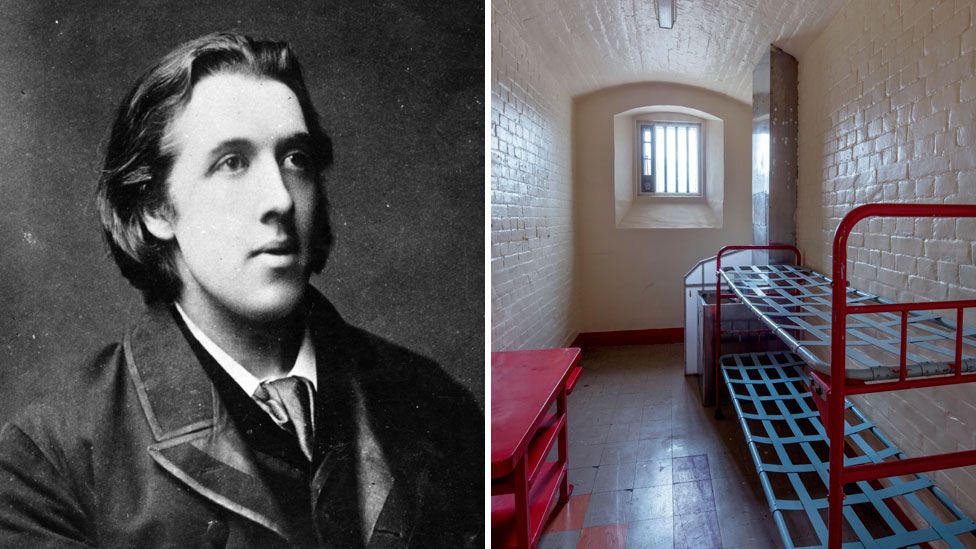 Plans to turn the jail which once imprisoned playwright Oscar Wilde into a theatre and arts centre have received the backing of the local authority.
Theatre Arts Reading (TAR) has set out a vision for Reading Prison to include two theatres, creative start-up spaces, an Oscar Wilde Museum and art gallery.
TAR is currently conducting a feasibility study, funded by Arts Council England, into the ideas.
The Ministry of Justice (MOJ) said it is "preparing to sell" the jail.
Reading Borough Council has endorsed the "powerful" vision set out by TAR for the "key" heritage site.
It said the Grade II listed prison, which closed in 2013, is the "missing piece" in its regeneration plans, which include the recent reopening of the historic Reading Abbey Quarter next to the jail.
Despite the government spending £250,000 a year on running the empty prison, the building's future has until now remained uncertain.
Councillor Sarah Hacker, Lead Member for Culture, Heritage and Recreation had challenged the MOJ to "break its silence" on the sale.
The councillor said: "Reading Prison is too important a building to the town to be left sitting empty and local people should have a say in its future".
In a statement following the councillor's challenge the MOJ said: "Following extensive archaeological work at the former Reading Prison site we are now preparing to sell it."
The jail was immortalised by Wilde's poem The Ballad of Reading Gaol which he wrote during his two-year sentence for gross indecency, a crime he was convicted of when homosexual acts were illegal.
In 2016 the empty prison hosted arts exhibitions, including a feature celebrating the Importance of Being Earnest writer's life.
Actors Ralph Fiennes and Maxine Peake and singer Patti Smith were among those who took part in readings at the former prison's chapel.
The results of the feasibility study by TAR are expected by September.
Related Internet Links
The BBC is not responsible for the content of external sites.