'Smart motorway' work to start on M4 in September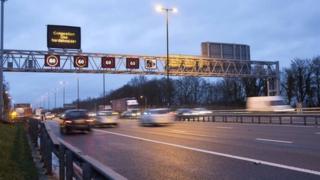 Plans for what will be the longest stretch of "smart motorway" in England will go on show ahead of work starting on the M4 in September.
The 32-mile (51km) stretch of road between London and Theale in Berkshire will be widened in both directions with four lanes.
Eleven bridges over the M4 will be demolished and rebuilt and four more carrying the motorway over roads, railways and rivers will be widened.
The project will cost up to £862.4m
So-called smart motorways operate also use a range of new technology, including electronic signs, to vary speed limits in response to driving conditions and to reduce congestion.
The work on the M4 between junctions three to 12 is expected to be completed by March 2022.
Highways England said the road was currently "prone to congestion" and had on average 130,000 vehicles a day travelling on it.
Safety concerns were previously raised by the RAC over the lack of a hard shoulder, leaving motorists in a vulnerable position if there was a breakdown.
Highway England said "places of relative safety will be every 1.12 miles on average and no more than 1.6 miles apart".