Plans to reconnect historic Reading town centre released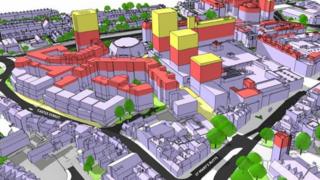 Plans for a major redevelopment which would reconnect with the historic town centre in Reading have been released by the council.
The proposals include demolishing the police station and magistrates' court - and takes in the site previously occupied by the borough council.
Currently at draft stage, the scheme includes new housing, shops, restaurants and a public square.
A 10-week public consultation is expected to begin in mid-July.
Documents released by Reading Borough Council say the plans are a "guide to future development" which takes in sites with "multiple ownerships".
The council does not expect all the buildings to be put up for development at the same time, but is working with "land owners and parties with an interest in land in the area".
Thames Valley Police has been looking at the future of their Reading site, and the plans suggests "redevelopment of the site being one option".
It also allows for "tall buildings", including one taller than 20 storeys above the Broad Street Mall.
The area used to be the historic centre of Reading, around the minster church and the market, which has seen decline in recent years.
The new proposal aims to conserve and enhance the conservation area and the listed St Mary's Church.
It also wants to make Minster Square a public open space to reconnect with Reading's historic town centre.