Maidenhead school asks parents to buy toilet roll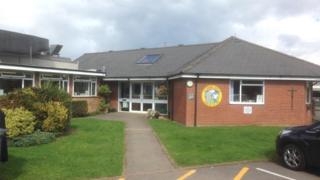 A school in Theresa May's constituency has sent a list to parents of things it says need buying to keep it running - including toilet paper.
The Maidenhead Advertiser reported St Edmund Campion Catholic Primary School sent an Amazon wish list link to the 17 items, also including pens, to parents.
The school said parents had asked for ways to support the school amid cuts.
However, the local council leader said the story was "politically-motivated utter nonsense".
On Monday, the school emailed parents with the items on the wish list, including a request for a "never-ending supply" of toilet paper, as well as adhesive tape, pens, A3 paper and Blu Tack.
It reportedly said it had lost £70,000 in government funding cuts.
The school's head teacher Patricia Opalko read a statement saying: "The Amazon wish list is something we put together in response to parents asking for ways to support our school further.
"Whilst reduced school funding is naturally a concern, we're in the fortunate position of being able to balance our budget for the next few years."
Parent and Liberal Democrat supporter Catherine del Campo, who has a 10-year-old daughter at the school, wrote on Twitter: "In your constituency, @theresa-may, a school not just asking parents for extras, but basic essentials.
"As well as loo roll, I've sent some plasters. I thought about sending some to [Education Secretary] @DamianHinds too, but they didn't have one big enough for the gaping hole in the education budget."
You may also be interested in:
However, Maidenhead resident and governor at another local primary school, Simon Earl, tweeted in response: "As a Governor at St Luke's Primary I know that well led and managed schools don't need to resort to begging for supplies.
"It's a political statement by the school. Look at where and how the school spend their £s."
Simon Dudley, leader of Conservative-run Royal Borough of Windsor and Maidenhead (RBWM), added in a heated argument with constituents on Twitter: "The percentage of good and outstanding schools in RBWM has never been higher at 86% and rising".
A spokesman for the Department for Education said by 2020 schools would be getting 50% more per pupil in real terms than they got in 2000 - and that the introduction of the National Funding Formula would address historic funding disparities.