Stolen Spencer painting found under drug dealer's bed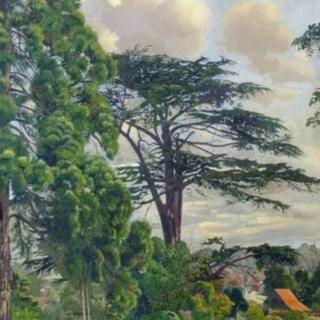 A £1m stolen Sir Stanley Spencer painting has been returned to its owners after being found under a drug dealer's bed.
Cookham from Englefield was taken from the Stanley Spencer Gallery in Cookham, Berkshire, in 2012.
Police found it next to 3kg of cocaine and 15,000 ecstasy tablets at a flat in Kingston-upon-Thames, London, in 2017.
The painting's owners had been "devastated" by its loss, officers previously said.
'Happy ending'
Arts Minister Michael Ellis said: "Spencer is one our most renowned painters and a true great of the 20th Century.
"It is wonderful that this story has had a happy ending and the painting has been returned to its rightful owners."
Det Con Sophie Hayes, of the Metropolitan Police's art and antiques unit, said: "The circumstances of its recovery underline the links between cultural heritage crime and wider criminality."
Sir Stanley, who died in 1959 - the same year he was knighted, often used Cookham, where he was born, as inspiration for his work during his 45-year career.
The Stanley Spencer Gallery described him as "undoubtedly one of our greatest British artists".