Plans for new 900-pupil secondary school in Reading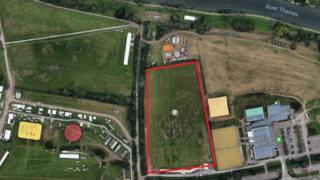 Plans have been put forward to build a new secondary school in Reading to cover a shortfall in available places.
Land at Richfield Avenue has been earmarked by Reading Borough Council to construct a 900-place free school which would open in September 2021.
The council said it had a "duty" to "meet the demand for school places", which are expected to rise.
The BBC reported one in eight pupils were not offered any of their preferred school options in Reading in March.
The school would be built at a former golf driving range which had been earmarked for a new outdoor activity centre.
The council said the "need for a new secondary school" meant plans for a gypsy and traveller site will not go ahead.
Council leader Jo Lovelock said finding a "suitable site" had been "extremely challenging".
She added: "The preferred site at Richfield Avenue stood out amongst all the options."
Figures show 230 pupils were allocated to schools not listed in their options this year compared to 67 in 2017.
Ashley Pearce, council lead for education, said "recent uncertainty" over Chiltern Edge school in Oxfordshire led to nearby Highdown School in Reading becoming "heavily over-subscribed".