Petrol and diesel mixed up at M4 Reading Services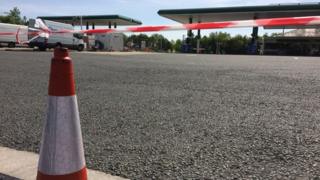 Hundreds of vehicles could have been filled with the wrong type of fuel after a mix-up at an M4 service station.
The tank for diesel used by HGVs at Reading Services, Berkshire, had been contaminated with petrol.
Before it closed on Thursday, about 9,000 litres of fuel were reportedly pumped at the BP station.
BP said in a statement that it was "working with our customers".
Tests on the remaining pumps at the site revealed the contamination was limited to the HGV tank.
BP said it was first made aware of the problem by two HGV drivers.
The company said in a statement that it encouraged "anyone who believes they may have been impacted to contact us directly."
Manager 'didn't know'
Driver Tony Jones, whose vehicle was affected, said: "I don't think they are doing anything to protect the public because people are still driving around with the wrong fuel in their cars."
Mr Jones said he told the manager at the service station as soon as he realised there was petrol in the diesel.
"He was still letting people buy the fuel - and he didn't know which pumps had contaminated fuel in them," he said.
"He said he had sold 9,000 litres since the delivery that morning," the driver added.
Mr Jones said BP arranged for his truck's fuel tank to be drained but believes the damage will be long-term.