Royal wedding 2018: Berkshire's Harry and Meghan rebrand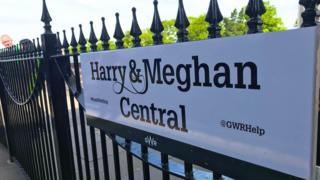 Across Berkshire pubs, shops and rail stations have been renamed in honour of Prince Harry and Meghan Markle's wedding on Saturday.
Windsor & Eton Central station will become Harry & Meghan Central.
The royal couple will pass by Marks & Spencer - rebranded Markle & Sparkle - following their nuptials at St George's chapel on Saturday.
It is unlikely, however, they will have time to drop into the newly-named Prince Harry pub.
Train services to and from Slough will have specially branded window labels as Great Western Railway expects to carry thousands of additional passengers.
The train operator will also provide over 60,000 chocolates and about 10,000 bottles of water to keep the party atmosphere going.
Retailer Marks & Spencer said its re-brand, accompanied by a town crier and a ceremonial ribbon-cut performed by recently wed M&S characters Percy and Penny Pig, was its way of capturing the excitement of "receiving a real-life Hollywood princess into our royal family".