Royal wedding 2018: Choir excited for 'lifetime opportunity'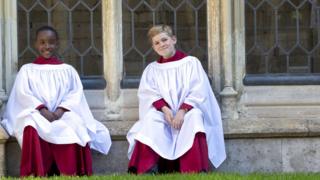 They have already sung before the Queen, but two choirboys performing at Saturday's royal wedding have described their call-up as a "once-in-a-lifetime opportunity".
Leo Mills, 11, and nine-year-old Natha Mcharo will sing at Prince Harry and Meghan Markle's ceremony.
The pair are among 12 young choristers whose voices will be heard by millions around the world.
As many as 100,000 people are expected to descend on Windsor for the day.
Leo and Nathan, who are part of the Choir of St George's Chapel at Windsor Castle, said they were "super-excited".
Leo said: "I knew that we sang for the Queen every Easter and other occasions but I didn't think we'd sing at any royal weddings."
He added: "It's a once-in-a-lifetime opportunity. If it's handed to you, you take it. You don't shy away from it."
Nathan said: "I'm really excited and I think that I'm really lucky because not many people get to sing at such a special event."
The boys, from St George's School in the grounds of the castle, sing at up to eight services a week.
The Choir of St George's Chapel was founded in 1348 and is made up of 23 choristers from St George's School, and 12 lay clerks singing alto, tenor and bass.
Lay clerks - adult professional singers - live with their families in the Horseshoe Cloister, just to the west of the chapel.