Simone Grainger death: Accused husband 'feared for his life'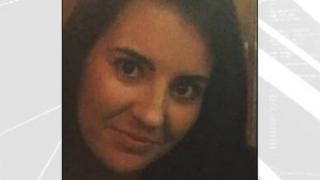 A man accused of battering his wife to death told Reading Crown Court he feared for his life when she "charged at me" with scissors.
Steven Grainger, 32, said he believed the mother of his two children was going to stab him in the late night row at the family home in the town.
The body of Simone Grainger, 30, was found by a family member rolled in a rug in the kitchen 4 November 2017.
Mr Grainger denies murder and one count of manslaughter.
He told the jury he had ended up behind his wife with his arm around her neck, as he tried to wrestle the scissors from her hand.
He said he realised she "felt heavy in my arms so I let her go and she fell forward".
He continued: "She was lying on the floor swearing at me. I didn't know she was hurt in any way, shape or form, if I knew she was hurt I wouldn't have walked away."
Mr Grainger said he left her lying on a rug in the living room and went to bed.
When he came down the next morning for work, he said he realised something was wrong.
"I saw blood on her face, I checked for a pulse, I knew she was dead, she was freezing cold," he told the court.
"Literally time stopped, it didn't seem real."
Under cross-examination, he denied hitting his wife with a saucepan which was found to have her blood on it, saying he had used it as an ashtray after he found her body.
The trial continues.