Simone Grainger death: Husband's £240 a week cocaine habit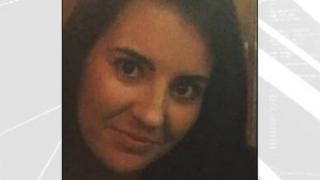 A man accused of murdering his wife has described in court his battle with spiralling drug use in the months before her death.
Steven Grainger, 32, told how he turned to cocaine to deal with depression.
The strangled and battered body of Simone Grainger, 30, was found rolled up in a rug in the kitchen of the family's home in Reading on 4 November.
Mr Grainger denies murder and one count of manslaughter.
The jury at Reading Crown Court also heard that on the day his wife's body was discovered by a family member, Mr Grainger had spent hours at his local railway station "contemplating what it might be like to jump" in front of a train.
Describing his wife as "probably the most beautiful girl I have ever seen" he said she had "every right to be angry" with him for taking drugs and failing to come home after nights out with his friends.
Financial pressures
The couple, who met when they were 15, had moved into a new home in Calcot, Reading, with their two children in June 2017.
Mr Grainger said the property was "basically a dump" and he felt a "lot of pressure financially getting the house ready so we could all move in".
He said at the time he was using about £80-worth of cocaine three times a week.
He admitted the pair bickered but said the arguments became worse after his wife found out the extent of his drug use.
"She started to get more angry with me, which is understandable because I had been an idiot," Mr Grainger told the jury.
He described one occasion the month before Mrs Grainger's death when she "went mad" and stabbed the sofa where he was lying.
"She was mad because I had come in from work late, about 9pm, and she wanted some doors glossing and I said I was too tired," he said.
On another occasion Mr Grainger claimed his wife became enraged when she believed he had spent money for rent on drugs.
"She grabbed me by my collar and pulled my hair and she was trying to hit me round the head," he said.
The trial continues.