'Shortfalls by health services' in mother and son rail death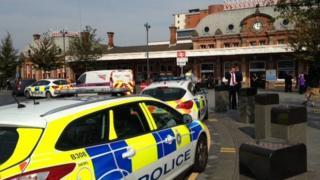 The family of a mother and boy killed by a train have told a coroner there were "shortfalls" in her treatment by health services.
Relatives of Rubina Khan and son Amaar Khan said more communication between NHS departments was needed.
Mrs Khan, 46 and Amaar, 10, died in a suspected murder-suicide at Slough railway station on 23 September 2014.
An inquest heard the mother "jumped" with her son onto the tracks before they were struck by a high-speed train.
Mrs Khan had depression and anxiety, which led to her having panic attacks and self-harming on occasions, Reading Coroners' Court heard.
The mother-of-three had been seen by a GP five days before she died and had been admitted twice to Prospect Park Hospital, in Reading, in July.
Following her release from hospital, details of self-harming incidents were not documented on a discharge form sent to her GP, the court heard.
'No intention'
Dr Kesar Singh Sadhra, a GP at Manor Park Medical Centre in Slough, said had doctors known about Mrs Khan's self-harming, staff would have been on "higher alert".
But he did not think the information would have "made any difference" to what happened.
A solicitor for Berkshire Healthcare NHS Foundation Trust said consultants had advised family members to stay with Mrs Khan to "mitigate the risk of self-harm, despite the low risk".
The court heard Mrs Khan had said during appointments she had no intention or thoughts of suicide or self-harm.
The Khan family said in a statement they were not pursuing a "witch hunt for accountability", but wanted answers in regards to "shortfalls".
They said that when they reported to mental health services that Mrs Khan had self-harmed they "seemed not to be taken seriously enough" and accused them of "brushing things under the carpet".
Mrs Khan was described as an "intelligent, articulate and sensitive" mother who "devoted her life" to helping others.
British Transport Police said at the time the case was a suspected murder-suicide.
The inquest will finish on Wednesday.