Housebound woman 'forced to crowdfund' for wheelchair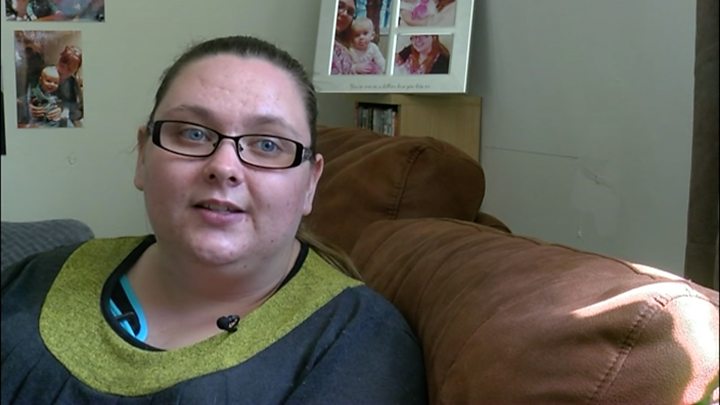 A woman who is housebound due to a rare genetic condition has been refused an electric wheelchair on the NHS, and has resorted to crowdfunding.
Charlotte Walton, 24, from Newbury, Berkshire, has Ehlers-Danlos Syndrome (EDS), and can no longer use one of her arms and both her legs.
She said "life is currently passing by" because she is "stuck in her home".
Her local NHS Clinical Commissioning Group apologised and asked her to "get in touch" to discuss her situation.
Ms Walton's EDS means that her joints easily dislocate, and in the past four years since her diagnosis, the condition has worsened.
Because doctors say there is a 3% chance she could walk again, she cannot be given an NHS-funded electric wheelchair to improve her mobility.
"Because of this 3% there is no definitive answer over whether I will walk again, so I'm stuck", said Ms Walton.
"I've got no independence left, and the last six months have been hell".
The former nursery nurse and community worker says she is in excruciating pain, and is taking 35 batches of medication a day.
"I can't physically move myself, and I can't wash because my arms can't get high enough because they will dislocate.
"It is heartbreaking, really", she added, "I've lost everything."
Ms Walton is now crowdfunding for an electric wheelchair as the NHS will not refer her to the wheelchair service.
She estimates that the cost of purchasing one privately is £5,000.
A spokesperson for Berkshire West Clinical Commissioning Group said: "We are very sorry to hear of Miss Walton's situation".
They asked her to contact them to "discuss the decision making process in more detail."