Reading protest: Kurdish boy 'hurt in police clash'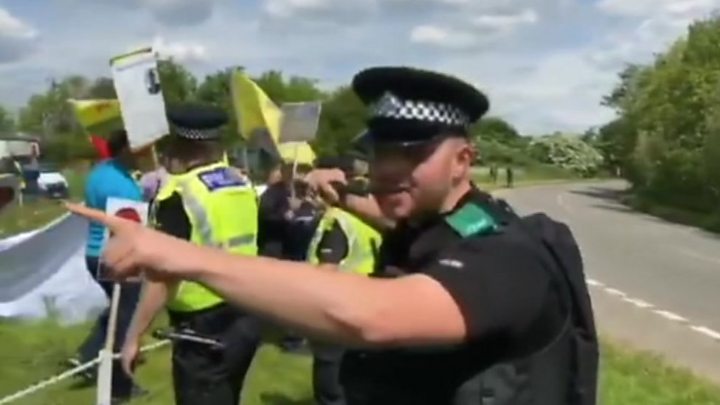 A teenager has been injured during a confrontation between police and Kurdish demonstrators in Berkshire.
The boy, 17, was "rugby tackled" by officers outside the Wokefield Estate near Reading, the Kurdistan Students Union said.
Thames Valley Police said a protester was taken to hospital but it had no details of injuries.
Protesters said they were trying to blockade a convoy taking President Erdogan of Turkey to a business event.
A video, posted by protesters on Twitter, showed a line of police officers holding dozens of protesters back from a road as a convoy of cars passed by.
Police used "unreasonable force" against the teenager, according to one protester, Elif Sarican.
The teenager was being treated at Basingstoke and North Hampshire Hospital for apparent head and back injuries, Ms Sarican said.
In a statement, Thames Valley Police said it had "facilitated a protest by pro-Kurdish groups".
"Protesters attempted to block the passage of vehicles and police tactics were deployed to protect the protesters and keep the road clear for the vehicles," police said.
President Erdogan is starting a three-day visit to the UK, which will include meetings with the Queen and Theresa May.
The president, who survived a coup attempt in 2016, is credited for economic achievements by his supporters but critics say he is an autocratic leader who harshly silences dissent.