Heathrow rail link plan unveiled by Network Rail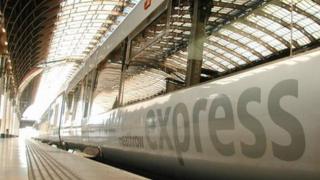 Final plans for a £900m railway line between the Great Western main line and Heathrow Airport have been released.
The most-detailed proposals yet for the link, subject to planning permission, include a 3.1 mile (5km) tunnel from the main line between Langley and Iver railway stations to Heathrow Terminal 5.
The proposal would allow people living to the west of Heathrow to travel direct to the airport, instead of having to go into London.
The consultation will end on 22 June.
Network Rail said journeys from Slough could take "six or seven minutes" to get to the airport, with trains from Reading taking 26 minutes.
The idea for the rail link has been on table since 2012, but plans have been adjusted following previous public consultations and its cost has risen from £500m in 2014.
Richard Griffiths, spokesman for Network Rail, said the line would leave the Great Western main line between Langley and Iver and join up with the tunnels at Heathrow Terminal 5.
Mr Griffiths said: "It's mainly underground and there will be four trains an hour at the way we are looking at it at the moment.
"So it will be an absolute transformation for people living in the Thames Valley and further west to get to Heathrow."
The Great Western main line is a major railway route in England, that runs westwards from London Paddington to Bristol Temple Meads.
Mr Griffiths admitted there were "winners and losers" to the project, with some people living in the area affected by the works.
Tan Dhesi, Labour MP for Slough, said the project would bring 42,000 new jobs and was a "game changer" for the local economy.
He said the rail link would stop people driving to the airport and would help reduce road congestion.
Currently, many passengers travelling from the west to Heathrow Airport travel into London and connect with trains from Paddington or use Underground services on the Piccadilly Line.
However, direct bus services are also available from Reading railway station to Heathrow.