Simone Grainger death: Husband disappeared on 'drug binges'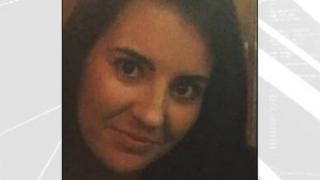 A father-of-two accused of battering and strangling his wife to death would disappear for weekends on drug-fuelled binges, witnesses have told a court.
Steven Grainger, 32, was also seen in a physical "scuffle" with Simone Grainger at their home in Windsor Way, Calcot, a month before she was killed.
The 30-year-old's half-naked body was found rolled up in a rug in the family home's kitchen on 4 November.
Mr Grainger denies murder and one count of manslaughter.
Witnesses for the prosecution told a jury at Reading Crown Court that the couple, who were teenage sweethearts, had a "rocky" relationship after Mrs Grainger discovered the extent of her husband's cocaine habit.
Mrs Grainger's cousin Karima Dernawi, from Reading, said Mr Grainger "would be a nightmare every weekend", going "AWOL on Fridays" and not paying the rent.
'Smashed the lot'
Her partner Robert Jowett told the jury Mr Grainger would tell him he was having a "one-man kitchen party" where he would be "bang on it", meaning "either drinking or taking drugs heavily".
Neighbour Luke White recalled Mr Grainger texting that he had five bags of cocaine to take with him to a Center Parcs family holiday in October, but that he did not show up for the trip because he had "smashed the lot" the day before and had been "up all night".
Mr White's fiancée, Hannah Young, who lived opposite the Graingers, witnessed a physical fight the couple had on 6 October 2017.
Ms Young said: "I could see them scuffling, they were both fighting, Steven had Simone in a bear hug around her stomach and I could see Simone pushing him away."
She added she saw "kicking" and heard Mrs Grainger shouting.
A witness statement read out in court from Mr Grainger's best friend, Daniel Little, stated he was aware of Mr Grainger taking cocaine recreationally since the age of 16, and that Mrs Grainger had angrily described her husband as a "raging coke-head", but that Mr Grainger was not a violent person.
Jurors heard on Wednesday that Mr Grainger said he pushed his wife in self-defence on the night of her death, after she began hitting him during a row.
The trial continues.