'Kate Binslet': Bin lorry named after actress Winslet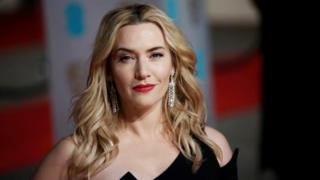 Kate Winslet's hometown has honoured the Oscar-winning actress by naming a bin lorry after her.
Kate Binslet is the latest addition to Reading's waste management fleet - joining previous winner Jar Jar Clinks.
After a titanic struggle, the cheeky moniker came top in a social media poll to christen the town's newest recycling lorry.
The BBC has contacted Winslet's representatives for comment.
'What better honour?'
Her near-namesake will be hitting the streets this summer, emptying bottle banks across the town for council contractor re3.
Chris Bowry, who submitted the name, said he thought Mrs Winslet would "love" having a lorry named in her honour.
"Then it hit me. Kate Winslet was born in Reading. What a better way to honour her legacy than to turn her name into a recycling lorry?"
The firm ran a Facebook poll to decide the name of its new lorry,
Kate Binslet won the final vote in a landslide, beating Tyra Bring Banks with 77% of the vote.
You may also like:
A spokesperson for re3, who run Reading Borough Council's waste services, said: "Choosing Kate Binslet is a real win for everyone, our residents did not disappoint us".
It certainly shows that people recognise her as local treasure and we really hope that having this world class celebrity behind our truck name will help us further raise the importance of recycling".
A number of organisations have recently asked the public to name parts of their transport fleet, including Doncaster Council's Gritsy Bitsy Teeny Weeny Yellow Anti-Slip Machiney and the infamous case of Boaty McBoatface.