Royal Wedding: Specialist firearms to be at train stations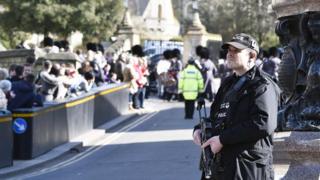 Specialist firearms units will be at "key" railway stations for the wedding of Prince Harry and Meghan Markle.
British Transport Police (BTP) is preparing security for more than 100,000 people travelling to the wedding in St George's Chapel on 19 May.
Armed officers will be at stations in London and at both Windsor stations.
People will have to go through full-body scanners to enter the town as part of "screening and search" measures.
BTP also plans to deploy officers specially trained in spotting unusual behaviour and police dogs to "respond to incidents on the rail network".
South Western Railway says it will be running full 10-carriage trains to deal with an "extremely busy" day.
Ch Supt John Conaghan said: "Officers will be highly visible at stations throughout London and the South East and will be on hand to offer help to anyone who needs it."
Protests are expected to take place on the day of the wedding, with an anti-monarchy group asking police for peaceful protests to be allowed near the event.
Graham Smith, head of pressure group Republic, described the royal wedding on 19 May as "PR for the monarchy".
He told Thames Valley Police Chief Constable Francis Habgood peaceful protesters should not be arrested.
Thames Valley Police said those looking to disrupt the event will be dealt with in a "robust yet proportionate" manner.