Royal Ascot bans Bardot tops in 2018 style guide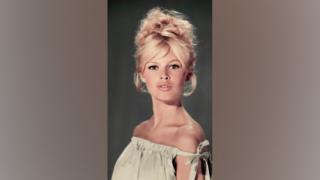 Bardot necklines, named after actress Brigitte Bardot who made the off-the-shoulder look famous, have been banned from the Royal Enclosure at Ascot.
Fascinators are also banned and for men, plain black and grey top hats are the only style permitted this summer.
Last year's addition of jumpsuits to the list of acceptable outfits remains but they must be full length.
Organisers said: "Ascot continues to recognise key trends in the ever-evolving world of fashion."
The event's official dress style guide also makes socks a requirement for gentlemen.
Royal Ascot will take place from Tuesday 19 June to Saturday 23 June.
What to wear to Ascot in 2018
LADIES
• Dresses and skirts should be of modest length, falling just above the knee or longer
• Dresses and tops should have straps of one inch or greater
• Jackets and pashminas may be worn but dresses and tops underneath should still comply with the Royal Enclosure dress code
• Trouser suits are welcome but should be of full length to the ankle and of matching material and colour
• Jumpsuits are welcome but should be of full length to the ankle, with regulations matching that for dresses
• Hats should be worn; however a headpiece with a solid base of 4in (10cm) or more in diameter is acceptable as an alternative to a hat
• Strapless, off-the-shoulder, halter-neck and spaghetti straps are not permitted
• Midriffs must be covered
• Fascinators are not permitted; neither are headpieces which do not have a solid base covering a sufficient area of the head (4in or 10cm).
GENTLEMEN
• A waistcoat and tie (no cravats)
• A black or grey top hat
• Black shoes worn with socks
Source: Royal Ascot