Thames Valley Police hires first 'direct-entry' superintendent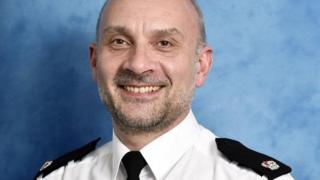 A police force has appointed its first superintendent through a new direct-entry scheme.
Former software engineer Colin Hudson has been appointed as commander for Windsor and Maidenhead, Thames Valley Police (TVP) said.
Supt Hudson is the first to join the force through the fast-track scheme, which aims to recruit professionals from sectors outside of policing.
Mr Hudson was one of 950 candidates who applied for the national programme.
He said: "I am very pleased and really honoured to be given command of the very professional and effective police resources across the Windsor and Maidenhead local police area."
The national direct-entry superintendent programme has a nine-stage selection process and lasts about the eight-months.
Candidates undertake an intensive learning programme and have to complete "rotations" as a constable, sergeant, inspector and superintendent.
The scheme breaks a 180-year tradition of officers gradually rising through police ranks.
A total of 20 police forces are involved in programme, and in September Maggie Blyth became Hampshire Constabulary's first direct-entry superintendent as Portsmouth's District Commander.
Experience concerns
The appointment comes after the BBC revealed the force is having to hire "case investigators" in order to bridge a gap in officer numbers.
A combination of an increase in retirements, high living costs and transfers to other forces is creating a shortfall of officers, with a net loss of 26 a month.
Mr Hudson has a degree in physics and a longstanding career in software engineering within the mobile telecommunications sector.
The force said prior to joining the police, he delivered "the rollout of Sky's first internet service".
Thames Valley Police Federation previously said recruiting "direct entry detectives" did not address a problem of why police officers "do not want to carry out the role".
The federation said "something had to be done" to address a shortage, but raised concerns over experience.