Pet ban and fine for man who slammed his puppy into wall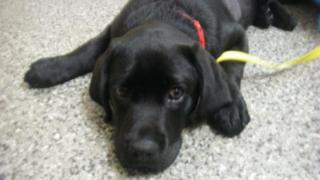 A man who slammed his puppy against a wall and broke its ribs when he "lost his temper" has been banned from keeping animals for 10 years.
Joe Easter, 27, was also fined £2,692 after admitting causing unnecessary suffering to his labrador Charlie.
Neighbours had witnessed the attack and contacted the RSPCA, who seized the 12-week old puppy in Bracknell, Berkshire.
Vets found Charlie had a swollen face and bloodshot eyes consistent with being strangled and six broken ribs.
Easter, of Lochinver, Bracknell, was also sentenced to a two-year community order at Reading Magistrates' Court.
RSPCA inspector Sharon Chrisp said: "Easter claimed Charlie had got caught in the door accidentally but later admitted, in interview, that he had lost his temper and there had been an incident."
Charlie was taken into the charity's care in August 2017 and has since been re-homed with another family.