Anton du Beke opens £10m maternity unit in Slough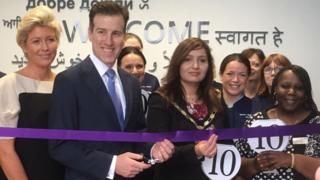 Strictly Come Dancing star Anton du Beke returned to the hospital where his twins were born to open a new maternity and women's unit.
The professional dancer cut the ribbon at the £10m facility at Wexham Park Hospital, Slough, Berkshire.
It is the first in a series of building projects at the NHS trust, which include a £49m accident and emergency department and new hospital.
Du Beke said: "They really deserve great facilities. I'm so thrilled."
'Incredible'
Du Beke said: "We could have chosen to go anywhere really and had our babies but we wanted to come here because we knew the reputation was high.
"Everyone was just so incredible from the moment we walked in until the moment we left a week later. Everyone was just so lovely and helpful.
"I can't tell you what a difference it makes when these people are looking after you. I have the upmost gratitude for all of them."
Du Beke's twins - a boy and a girl - were born at the hospital in March last year.
The trust said the new midwife-led Juniper Birth Centre will provide a "home-from-home environment" for mums, which includes en suite facilities and birthing pools.
Improvements include better outpatient areas and antenatal outpatient facilities.
Andrew Morris, chief executive of Frimley Health NHS Foundation Trust, said the new unit would "match the skills and expertise" of the staff.