HBOS fraud victims 'destroyed' by compensation delays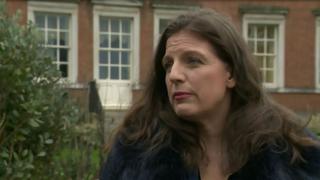 Victims of a banking fraud worth hundreds of millions of pounds have said they are yet to receive compensation, a year after six people were convicted.
A former HBOS banker and five other financiers were jailed for offences committed between 2002 and 2007.
Those affected said their lives have been "destroyed" by the delays.
Lloyds Banking Group, which took over HBOS, have said three quarters of victims had reached a settlement.
Joanne Dove, a business owner from West Sussex, was forced to sell her company at a fraction of its value after being caught up in the fraud.
Lloyds has set up a £100m fund to compensate 61 victims of the crimes, but Mrs Dove claims she has received no compensation.
Mrs Dove said being forced to wait more than a year after the conclusion of the criminal trial was "like salt being rubbed in the wounds".
She added: "It has destroyed my finances and destroyed my credit rating. As a businesswoman it has held me in suspended animation."
The six were sentenced in January 2017 over the £245m scandal which targeted the bank's small business customers.
The group was found to have siphoned off funds and spent the profits on prostitutes, luxury holidays and a range of expensive items from their base in Reading.
Lynden Scourfield, a former HBOS manager, was sentenced to 11 years and three months for his role in the scam, while consultant David Mills was jailed for 15 years.
Michael Bancroft was jailed for 10 years and Mark Dobson was sentenced to four and a half years on counts including bribery.
Alison Mills and John Cartwright were also given three and a half year sentences for money laundering.
Karl Capp, from Oxfordshire, whose business went under as a result of the scam, said he has been "financially and emotionally decimated" by it.
"How much money can you attribute to the loss of 12 years, the less of your livelihood and the loss of real focus?"
He added: "Until this is resolved, I cannot move on."
Lloyds, which has missed its own deadline of 30 June 2017 for paying redress to all victims, claim that it has made "good progress" with victims.
It added that 41 of 61 affected customers had accepted an offer from them.