Reading man streamed indecent child images in chat room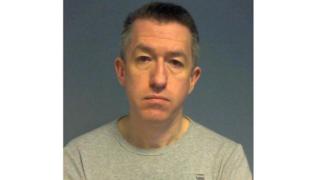 A man who used work computers to access and share indecent images of children has been jailed for four years.
Raymond Taylor, 40, from Reading, streamed indecent images to an online chat room and discussed abuse fantasies with other users, a National Crime Agency investigation found.
Taylor was sentenced after he admitted making and distributing indecent photographs of children.
Devices seized from Taylor held 529 indecent images.
The National Crime Agency (NCA) said Taylor told a chat room for sharing the abusive content that "true pedos love boys and girls".
He left messages in the chat room expressing a preference for children aged "0+".
Computers Taylor used for his job at a home security firm were among those which held the images.
Other devices found during searches of his house included a mobile phone hidden in the drainpipe outside his window, three external hard drives and four computers.
'Growing threat'
The devices held 529 indecent images of children, some of them in the most serious category used to grade such images.
The NCA said the sharing and live streaming of child abuse was a "a growing threat".
Martin Ludlow, operations manager at the NCA, said: "Offenders who swap indecent images online prolong the abuse of the children in the pictures.
"Unfortunately with the rise of digital technology, sharing and broadcasting indecent images of children in real time has never been easier, whether on the dark web or more conventional forms of social media."
Taylor was sentenced to four years in prison at Reading Crown Court, having pleaded guilty to 11 counts of making, and eight of distributing, indecent images of children on Friday.
He was also made subject to a sexual harm prevention order and placed on the sex offenders register for life.