Man hit by bus in Reading in critical condition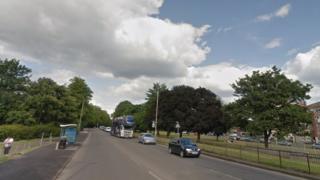 A man has been taken to hospital with life-threatening injuries after being hit by a bus in Reading.
The crash, just before 18:00 GMT on Thursday, on Bath Road, led to the area between Circuit Lane and Burghfield Road by Prospect Park being shut.
South Central Ambulance Service said the pedestrian in his 50s was taken to the John Radcliffe Hospital in Oxford.
It comes two days after two women were killed on the same road when their car collided with an unmarked police car.
The road on Thursday was reopened just after 21:00.