Ex-detectives hired to tackle water theft crime wave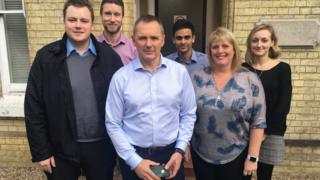 England's biggest water company has hired a team of former detectives to catch thieves digging up roads and stealing water from its pipes.
Thames Water says unauthorised connections have "skyrocketed" from 33 in 2011 to 734 in 2017.
In 2017, the regulator fined the firm £8.55m for its "unacceptable" failure to meet its leakage reduction targets.
With unaccounted-for water classed as leakage, it hopes the crackdown will help reduce the 26% it loses each year.
The company said reducing the amount of water lost is a "top priority" and described its new investigations team "an important step forward" to reduce leakage in end-of-year performance tables.
Headquartered in Reading, Berkshire, Thames Water serves 15 million customers and boasts its tap water quality "is amongst the best in the world".
Now its team of investigators are patrolling the Thames Valley and London to catch the criminals helping themselves to that water for free.
Leading the team is ex-detective Stuart Orchard who said: "We're not out to get people, but it's against the law to dig up the road, find our water mains and illegally connect to our network.
"Thousands of litres of drinking water are lost every day. Therefore, to help protect water supplies for future generations and gain a greater control of our network, it's vitally important we find and stop the people doing this."