Thames Valley Police force short of officers amid cuts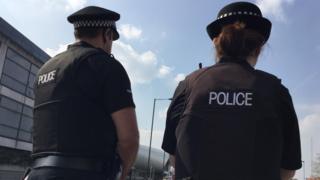 A police force is having to hire "case investigators" in order to bridge a gap in officer numbers.
Thames Valley Police (TVP) is struggling to fill posts as officers are leaving the force at a higher rate than new recruits joining.
A "combination" of an increase in retirements, high living costs and transfers to other forces were reasons for the shortfall in numbers.
The force said it was short of 98 officers with a net loss of 26 a month.
Chief constable Francis Habgood said he did not think officer numbers were at "crisis" point, but added there were "pressures because of the numbers leaving are high".
There are plans to recruit about 100 more investigators in specialist departments this year, who do not have the powers of arrest, to cope with increasing demands.
The force employs ex-officers to become investigators, but also employs other people with experience of working in an investigatory type role.
"The biggest [loss] is retirements," Mr Habgood added.
"The feedback I get when other forces open up is they still have high numbers of people applying.
"But we're opening up for recruitment and not always filling our [training] courses."
Bonuses 'peanuts'
He added the force "cannot compete" with the living costs in the area and that retiring officers only have to give one month's notice, which created a shortfall due to the time taken to train recruits.
The chief said the force had to "plan for the future to ensure we continue to keep the communities of Thames Valley safe".
TVP currently has 3,779 officers which is 98 officers below the required level. It is forecast to fall to 101.
Anthony Stansfeld, police and crime commissioner for TVP, said bonuses to attract officers to transfer from other forces were "peanuts".
The force had a budget of £405m approved this week, as it faces making further cuts of £14.3m until 2020/21.
What are case investigators?
The force has employed case investigators for the past seven years, but the BBC understands other UK forces employ them.
Some are police officers who have retired or left the force, who assist constables and detectives in specialist departments.
They do not have the powers of sworn police officers and cannot make arrests.
Duties include preparing case papers, taking statements of evidence, and interviewing suspects in custody.