Reading Central Club's black culture mural given protected status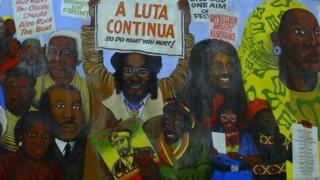 A mural celebrating black culture has been given protected status after fears were raised about its future.
Reading Central Club was put up for sale by the borough council earlier this year after bids from community groups to take it over failed.
This prompted protests by activists concerned the 27-year-old, 36m-long artwork on the side of the building could be scrapped by any new owners.
The council said it has listed the mural as an "asset of community value".
The authority said the mural was given the status following an application by community company Aspire, which had previously accused the council of trying to sell off its "spiritual home".
Jo Lovelock, leader of Reading Borough Council, said the move "reinforces our standpoint" that the authority was "fully committed" to preserving the artwork.
"The council is also completely clear it expects any offers received in the next round of bidding for the former Central Club building, to include plans to secure the mural's future," she said.
The club, which had been at the heart of Reading's black community since 1978, has been closed since 2006 following a police drugs raid.