School in Theresa May's constituency seeks £1 for pens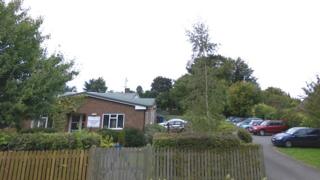 A primary school in Prime Minister Theresa May's constituency has asked parents for a £1 daily donation to help pay for stationery and books.
Robert Piggott CofE School in Wargrave, Berkshire, said the plea comes after "national changes to school funding".
Labour said this showed "Tory cuts" were "hitting schools badly".
Education minister Nick Gibb said the school is set to gain around £10K a year in extra cash from 2018 under the new National Funding Formula.
The school, which according to the most recent figures has 311 pupils, is in the Maidenhead constituency represented by Mrs May since 1997.
The letter to parents read: "One of the elements of [the funding plan] was to ask parents and the community to consider making donations to help meet the predicted shortfall in funding.
"Therefore, like many other schools, we are now requesting voluntary contributions from parents."
"We would like to suggest that parents donate £1 per school day for each child to help the schools through this funding crisis. This equates to £190 per year."
The school said it would help pay for glue, pens, pencils, exercise books, paper, tape and reading books.
'So angry'
Parent Anita Smith said: "I have had the letter and to be honest with you I was fuming when I received it.
"Not at Robert Piggott because they are an exceptional school, but I'm so angry at the Government that the school has had to resort to this.
"I've got two children at the school so that's around £400 a year, but my salary hasn't gone up to cover that."
News of the letter comes days after school heads delivered a letter to Downing Street warning schools are increasingly having to make requests for voluntary donations.
Shadow education secretary Angela Rayner told the Daily Mirror: "The Government can spin all they like but the reality is that Tory cuts are hitting schools badly, even in the PM's own constituency."
Education Secretary Justine Greening said an extra £1.3bn will be found for England's schools from existing budgets, though some teacher unions said this would not be enough to plug funding gaps.
Mr Gibb said: "Every school will see an increase in funding through the formula from 2018, with Robert Piggott CofE Infant and Junior Schools set to gain around £10,000 a year in total."