Severed foot boy home after fence fall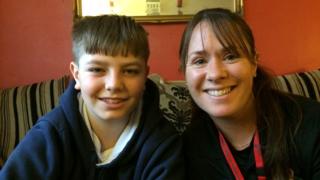 A boy who needed a 14-hour operation to reattach a severed foot after a fall from a garden fence has returned home.
Scott Turner, 14, from Finchampstead in Berkshire, fell 12ft into a neighbour's garden, leaving his leg and foot attached by a small flap of skin.
His mother, Vicki Robertson, said she "owed everything" to a nearby off-duty doctor who helped save his limb from amputation.
Scott, a talented footballer, is now expected to make a full recovery.
'Heart sank'
The teenager was climbing in the garden on 17 September when mum Vicki heard both Scott and her neighbour scream.
"Everything went really slowly, but was really chaotic at the same time," said Ms Robertson.
"My heart sank, I could see how serious the injury was."
Paramedics who first responded to the fall called a specialist doctor who lived nearby and was able to offer specialist knowledge of the injury.
The doctor managed to stem the blood flow and splint the foot, which allowed them to travel to hospital by road rather than in an air ambulance.
Scott's mother said the first responders "kept everything really calm, and they were amazing".
Scott had two operations - one lasting 14 hours - to reattach the limb and save it from amputation.
Doctors say the 14-year-old will walk again, and he has been offered a trial by the Premier League when he recovers.
"I think he is utterly amazing, he is my hero," said Ms Robertson.
"He has continued to fight and still wants to be the next Steven Gerrard."