Slough Council bids to take over 'unsafe' private flats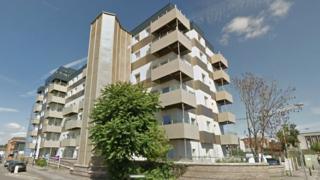 A block of flats that failed safety tests carried out after the Grenfell Tower disaster looks set to be taken over by its local authority.
Slough Council made the move to take control of Nova House "to protect the safety of the residents", it said.
It is liaising with the fire service and freeholder to take "immediate action" to improve the building.
The authority said it would be the first privately-owned block to be taken over by a public body since the fire.
The six-storey building - built as an office block in the 1980s but converted into 68 residential apartments in 2015 - failed two separate fire inspections between June and August 2017.
The building control regulation was done by a private inspector.
Leader of Slough Council Sohail Munawar said: "A great deal of work needs to be done to Nova House.
"We do not believe the current freeholder has the capacity to do what is needed for the residents."
Since the Grenfell Tower fire, many local authorities have been testing out the fire safety of public and privately-owned buildings.
The company which currently owns the freehold of the building in Slough has been asked for comment.